C. S. Lewis, "Mere Christianity"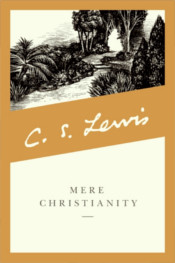 In 1943 Great Britain, when hope and the moral fabric of society were threatened by the relentless inhumanity of global war, an Oxford don was invited to give a series of radio lectures. This was his one great opportunity to address the central issues relating to Christianity.

Over half a century after the original lectures, the topic still retains it urgency. Expanded into book form, Mere Christianity never flinches. Lewis' magnum opus sets out a rational basis for Christianity. Then it builds an edifice of compassionate morality atop this foundation. As Mr. Lewis clearly demonstrates, Christianity is not a religion of flitting angels and blind faith, but of free will. Here you will discover an innate sense of justice and the grace of God.

In the classic Mere Christianity, C.S. Lewis, the most important writer of the 20th century, explores the common ground upon which all of those of Christian faith stand together. Bringing together Lewis' legendary broadcast talks during World War II from his three previous books The Case for Christianity, Christian Behavior, and Beyond Personality, Mere Christianity provides an unequaled opportunity for believers and nonbelievers alike to hear this powerful apologetic for the Christian faith.

Purchase through Amazon.
Tags: Apologetics, Non-Ficton
Trackback from your site.
Publisher
I'm just an average guy who loves promoting great Christian Books. This website is dedicated to all the Christ-followers out there who love to feast on the Word.