Davis Bunn, "The Pilgrim"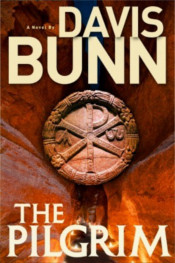 "Davis is a master storyteller and his ability to tell an ancient tale in a contemporary style regularly leaves readers wanting more." —Dave Milbrandt, author, Chasing Deception

In his latest historical epic, worldwide bestselling author Davis Bunn takes readers on a journey through an ancient landscape. Travel with Empress Helena from Caesarea to Judea. Abandoned by her husband, in danger because of her faith, but with an implacable will to do what God calls her to, she takes a perilous pilgrimage. Along the way she meets those who would help her (the wizened and wise bishop Macarius; the rough-edged but kind-hearted sergeant Cratus; the young soldier Anthony, a man who has lost everything, including his faith) and those who would harm her (the menacing and murderous Roman assassin Severus). Miracles seem to follow this humble but determined woman as she wins many over to the faith, and changes lives forever—including her own.

This unforgettable story of the discovery of the True Cross will thrill readers with its adventure, and with its vivid portrait of one of Christian history's most important women.

"[Bunn] does something few Christian fiction writers do…his stories open readers to a bigger multicultural and multireligious world…he always seems to surprise and lead into places readers don't expect." —Publishers Weekly

Davis Bunn has once again come up with a wonderful book. I have thoroughly enjoyed The Pilgrim. Davis takes us on a journey of a woman who is completely broken, but hears the voice of God and is focused to complete the mission she has been instructed to do. Although the journey seems impossible, she continues on with the faith that is inside her even through many obstacles are placed in front of her at each step. ~Goodreads

Find The Pilgrim by Davis Bunn in Amazon.
Tags: Fiction
Trackback from your site.
Publisher
I'm just an average guy who loves promoting great Christian Books. This website is dedicated to all the Christ-followers out there who love to feast on the Word.