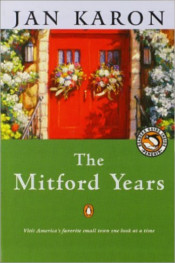 Visit America's favorite small town one book at a time. From the #1 New York Times bestselling author Jan Karon, this is the new e-collection of the first five novels in the beloved Mitford Years series.

Readers have come to feel at home in Mitford, the little town with the big heart. As this charming mountain village works its magic, you'll laugh, you'll cry, and you'll quickly make friends who feel like family-for the residents of this small town are the most ordinary people who live the most extraordinary lives. A visit to this amazing place is good for the soul, and now you can visit it again and again.

Jan Karon is a bestselling author of nine novels in this award winning series. The main story line features Father Timothy Kavanagh, an Episcopal priest entrusted with the spiritual care of the village of Mitford.

Set in the foothills of the Blue Ridge Mountains, Karon's Mitford books include At Home in Mitford; A Light in the Window; These High, Green Hills; Out to Canaan; A New Song; A Common Life: The Wedding Story; In This Mountain; Shepherd's Abiding; and Light from Heaven. The Father Tim Novels include "Home to Holly Springs" and last fall's release of "In the Company of Others," set in County Sligo, Ireland. There are over 40 million Mitford and Father Tim novels, children's books, and CDs in print.

Purchase through Amazon.