Frank Peretti, "This Present Darkness"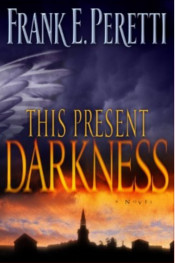 The small town of Ashton is the unexpected setting for an epic clash between good and evil as a Christian preacher and a news reporter unearth a plot to take over their small community, and eventually the world. Unseen supernatural forces are at play, as armies of angels and demons wage battle, with groups of Christians and New Agers influencing what they cannot see by the power of prayer.

This Present Darkness, by Frank Peretti, is among the classic novels of the Christian thriller genre. First published in 1986, Peretti's book set a suspenseful standard in spiritual warfare story-telling that has rarely been met by his contemporaries. Set in the apparently innocent small town of Ashton, This Present Darkness follows an intrepid born-again Christian preacher and newspaper reporter as they unearth a New Age plot to take over the local community and eventually the entire world. Nearly every page of the book describes sulfur-breathing, black-winged, slobbering demons battling with tall, handsome, angelic warriors on a level of reality that is just beyond the senses. However, Christian believers and New Age demon-worshippers are able to influence unseen clashes between good and evil by the power of prayer. Peretti's violent descriptions of exorcisms are especially vivid: "There were fifteen [demons], packed into Carmen's body like crawling, superimposed maggots, boiling, writhing, a tangle of hideous arms, legs, talons, and heads." This book is not for the squeamish. But for page-turning spiritual suspense, it's hard to beat.

Purchase through Amazon.
Tags: Fiction
Trackback from your site.
Publisher
I'm just an average guy who loves promoting great Christian Books. This website is dedicated to all the Christ-followers out there who love to feast on the Word.