Latest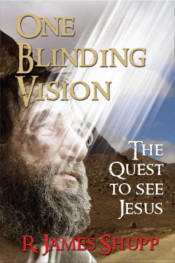 R. James Shupp, One Blinding Vision: The Quest to See Jesus

IS JESUS LOST?

That's not a safe question to ask out loud, especially in the typical church on Sunday morning. And yet, there's this uneasy feeling that something really is missing. Perhaps it's Jesus!

Consumer-style Christianity has so redefined the person of Christ that He's just a mere shadow of His former self. The Galilean Carpenter who launched a global movement lies buried somewhere beneath the layers of tradition and the noise of religion. Most contemporary views of Jesus do little to excite the imagination and outright fail to ignite a call to mission. On any given Sunday, both are left behind in the padded pews as the saints flee to the nearest restaurant.

But what if the resurrected Lord of Glory pulled back the curtain and allowed us to "see Him as He really is"? Imagine the stunned look on the Apostle Paul's face after this happened to him one day. He was travelling on the Damascus Road "breathing murderous threats against the church," when in a brilliant flash of light, he laid eyes on the real Jesus. The intensity of the vision was blinding—the scope of the vision, world changing.

"One Blinding Vision" is an invitation for anyone who wants to begin a new journey into the life of Christ. It's passionately raw and fiercely honest. Read this book when you need to soothe the heartburn caused by an overexposure to the wrong Jesus.

The author understands this reality better than most. After decades of leading some very large churches, he was as at the end of himself. He came dangerously close to walking away from ministry. As a last ditch effort, he decided to take a fresh look into the life and ministry of Jesus Christ, simply to determine whether he had missed something important.

What he found was a powerful message that turned the world upside down. He discovered the heart and passions of the greatest Rabbi who ever lived. It changed his life. Follow James Shupp's journey down every man's Damascus Road. And make "One Blinding Vision" your ultimate destination.

Read a sample chapter here
Watch the trailer.
Purchase through Amazon.
---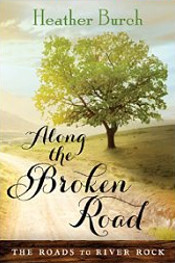 Heather Burch, Along the Broken Road

Armed with only a journal and a promise, soldier Ian Carlisle returns home to fulfill his friend's dying wish: to find the man's daughter and read her his journal, one page at a time. The woman he finds in River Rock, Missouri, is just as warmhearted, artistic, and feisty as her father described. Ian had fallen in love with Charlee McKinley before he even met her, but he has no idea if she'll ever return his feelings.

Charlee loved her father—but she didn't like him very much. Regimental and strict, Major Mack never approved of his daughter's choices. So when a down-on-his-luck soldier arrives on Charlee's doorstep, she'll give him the benefit of the doubt, but not her heart. It isn't until he starts reading to her that the beautiful, touching words begin to unlock something deep inside. But when Ian reveals a secret that shakes Charlee to her core, will she close herself off to love out of fear?

Go to Amazon.
---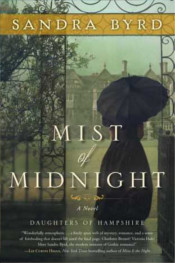 Sandra Byrd, Mist of Midnight

In the first of a brand-new series set in Victorian England, a young woman returns home from India after the death of her family to discover her identity and inheritance are challenged by the man who holds her future in his hands.

Rebecca Ravenshaw, daughter of missionaries, spent most of her life in India. Following the death of her family in the Indian Mutiny, Rebecca returns to claim her family estate in Hampshire, England. Upon her return, people are surprised to see her…and highly suspicious. Less than a year earlier, an imposter had arrived with an Indian servant and assumed not only Rebecca's name, but her home and incomes.

That pretender died within months of her arrival; the servant fled to London as the young woman was hastily buried at midnight. The locals believe that perhaps she, Rebecca, is the real imposter. Her home and her father's investments reverted to a distant relative, the darkly charming Captain Luke Whitfield, who quickly took over. Against her best intentions, Rebecca begins to fall in love with Luke, but she is forced to question his motives—does he love her or does he just want Headbourne House? If Luke is simply after the property, as everyone suspects, will she suffer a similar fate as the first "Rebecca"?

A captivating Gothic love story set against a backdrop of intrigue and danger, Mist of Midnight will leave you breathless.

Go to Amazon.
---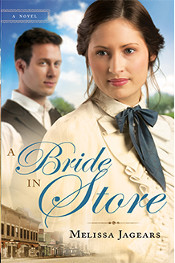 Melissa Jagears, Bride in Store

Impatient to meet her intended groom and help him grow his general store, mail-order bride Eliza Cantrell sets out on her travels a week early. But her plan goes sadly awry when her train is held up by robbers who steal her dowry and Axel, her groom-to-be, isn't even in town when she finally arrives.

Axel's business partner, William Stanton, has no head for business and would much rather be a doctor. When his friend's mail-order bride arrives in town with no money and no groom in sight, he feels responsible and lets her help around the store–where she quickly proves she's much more adept at business than he ever will be.

The sparks that fly between Will and Eliza as they work together in close quarters are hard to ignore, but Eliza is meant for Axel and a future with the store, while Will is biding his time until he can afford medical school. However, their troubles are far from over when Axel finally returns, and soon both Will and Eliza must decide what they're willing to sacrifice to chase their dreams–or if God has a new dream in store for them both.

Go to Amazon.