Colleen Coble, "The Inn at Ocean's Edge"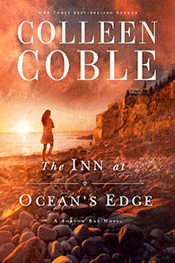 In 1989, Claire Dellamare disappeared from her own fourth birthday party at the Hotel Tourmaline on the island of Folly Shoals, Maine. She showed up a year later at the same hotel, with a note pinned to her dress but no explanation. Nobody knows where Claire spent that year—and until now, Claire didn't even know she had ever been missing.

But when Claire returns to the Hotel Tourmaline for a business meeting with her CEO father, disturbing memories begin to surface . . . despite her parents' best efforts to keep them forgotten.

Luke Rocco lost his mother under equally mysterious circumstances—at the same time Claire disappeared. After a chance encounter reveals the unlikely link between them, Claire and Luke set out together to uncover the truth about what happened that fateful year.

With flashbacks swimming just beneath her consciousness and a murderer threatening her safety, Claire's very life depends on unscrambling her past . . . even if her family refuses to acknowledge it. Someone—maybe everyone—is hiding something from Claire Dellamare, and it will cost her everything to drag the truth out into the light.

USA Today bestselling author Colleen Coble has written several award winning romantic suspense novels including, Tidewater Inn and Rosemary Cottage.

The Inn at Ocean's Ridge is Colleen Coble at her best. The story is richly layered around the theme of what makes us a family. Is it blood relationships? Is it love? Is it something else? ~Goodreads

The Inn At Ocean's Edge is a mesmerizing, compelling, mysterious tale. As haunting as a Hitchcock, this story will keep you reading late into the night. An eerie beachside hotel, brings back haunting memories for the main character and as the reader, I got to follow in her footsteps as she desperately tried to uncover the truth of the past. ~Goodreads

Purchase through Amazon.
Tags: Fiction
Trackback from your site.
Publisher
I'm just an average guy who loves promoting great Christian Books. This website is dedicated to all the Christ-followers out there who love to feast on the Word.