Stormie Omartian, "The Power of a Praying Wife"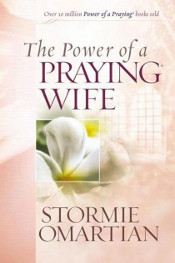 The trials and pressures of modern life can make the prospect of a fulfilled, meaningful marriage seem impossible. In The Power of a Praying Wife, popular Christian author and speaker Stormie Omartian pinpoints common marital struggles and reveals the miraculous way that disciplined prayer can alleviate heartache and sustain unity. According to Omartian, a marriage's success depends upon "laying down all claim to power in and of yourself, and relying on God's power to transform you, your husband, your circumstances, and your marriage."

Omartian attributes the success of her own 25-year marriage to dedicated prayer for every area—however specific—of her husband's life; from his finances and his work to his integrity and his temptations. Each chapter offers insight into areas that are especially important to men, followed by "power tools" (inspiring, topical Scripture) to guide one's prayer life and transform a woman's mind with regard to her husband. This practical read will encourage women to trust God to change their spouse, and undoubtedly refocus one's perspective on God's power rather than one's own personal predicament.

Stormie Omartian's bestselling The Power of a Praying® series (more than 23 million copies sold) is rereleased with fresh new covers and new material to reach a still-growing market of readers eager to discover the power of prayer for their lives. Stormie joyfully inspires you to develop a deeper relationship with your husband by utilizing the amazing power of prayer. This uplifting resource is packed with practical advice on praying for specific areas of your husband's life, including his decision-making; fears; spiritual strength; role as father, leader; and faith and future. If you desire a closer relationship with your spouse, you will appreciate the life illustrations, encouraging Bible verses, and the assurances of God's promises and power for your marriage.

Purchase through Amazon.
Tags: Non-Ficton
Trackback from your site.
Publisher
I'm just an average guy who loves promoting great Christian Books. This website is dedicated to all the Christ-followers out there who love to feast on the Word.