Melissa Jagears, "Bride in Store"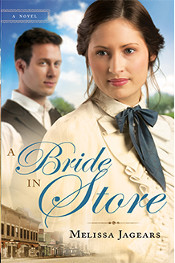 Impatient to meet her intended groom and help him grow his general store, mail-order bride Eliza Cantrell sets out on her travels a week early. But her plan goes sadly awry when her train is held up by robbers who steal her dowry and Axel, her groom-to-be, isn't even in town when she finally arrives.

Axel's business partner, William Stanton, has no head for business and would much rather be a doctor. When his friend's mail-order bride arrives in town with no money and no groom in sight, he feels responsible and lets her help around the store–where she quickly proves she's much more adept at business than he ever will be.

The sparks that fly between Will and Eliza as they work together in close quarters are hard to ignore, but Eliza is meant for Axel and a future with the store, while Will is biding his time until he can afford medical school. However, their troubles are far from over when Axel finally returns, and soon both Will and Eliza must decide what they're willing to sacrifice to chase their dreams–or if God has a new dream in store for them both.

Melissa Jagears, an ESL teacher by trade and the author of A Bride for Keeps," is a stay-at-home mother on a tiny Kansas farm with a fixer-upper house.

Purchase Bride in Store by Melissa Jagears through Amazon.
Tags: Fiction
Trackback from your site.
Publisher
I'm just an average guy who loves promoting great Christian Books. This website is dedicated to all the Christ-followers out there who love to feast on the Word.