Catherine Marshall, "Christy"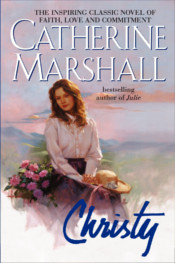 In the year 1912, nineteen-year-old Christy Huddleston leaves home to teach school in the Smoky Mountains — and comes to know and love the resilient people of the region, with their fierce pride, their dark superstitions, their terrible poverty, and their yearning for beauty and truth. But her faith will be severely challenged by trial and tragedy, by the needs and unique strengths of two remarkable young men, and by a heart torn between true love and unwavering devotion.

• Deeply moving…filled with suspense adventure, humor, and even comedy. (Pasadena Star News)
• Christy is Wonderful…an epic novel. (Dallas Times Herald)
• An affirmation of faith… A clear impression of the proud Scotch-Irish mountaineers and their harsh, lonely lives. (Library Journal)
• A powerfully moving book of great depth. (Atlanta Journal-Constitution)
• Christy has something that keeps the reader reading… Relevant and heart-opening… Rich, dramatic. (Fort Worth Star-Telegram)
• An inspiring story. With skill, Catherine Marshall has described human qualities common to all people everywhere. (Boston Globe)
• A novel of celebration… wholesome, inspiring… Enjoyable reading. (St. Louis Post-Dispatch)

Catherine Sarah Wood Marshall LeSourd was an American author of nonfiction, inspirational, and fiction works. She was the wife of well-known minister Peter Marshall.

Purchase through Amazon.
Tags: Fiction
Trackback from your site.
Publisher
I'm just an average guy who loves promoting great Christian Books. This website is dedicated to all the Christ-followers out there who love to feast on the Word.