Lynette Eason, "No Place to Hide"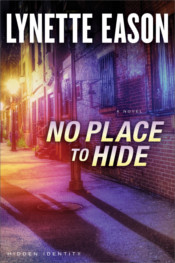 She'll defend her friend until the bitter end–but is she in over her head?

It's not every day you see your childhood friend and onetime crush on national news. Jackie Sellers just wishes it were under different circumstances. She can't believe that Ian Lockwood is wanted in connection with a terrorist plot, and she's determined to find him and help him clear his name. Unfortunately, she's not the only one looking for him. The FBI wants him captured. The bad guys want him dead. Ian just wants to stay alive long enough to prove his innocence and prevent a catastrophe.

Lynette Eason delivers nonstop action as Jackie and Ian travel a dangerous road–one that may lead straight to destruction.

Praise for the series:

"For any reader looking for 'edge-of-your-seat' thrills, this series is the perfect gift."–Suspense Magazine

"Fans of Eason's and readers of Christian suspense will definitely want to check out this new series. I, for one, cannot wait to get my hands on the next installment."–Fiction Addict

"An exciting new series with action and thrilling chase scenes."–RT Book Reviews

Purchase through Amazon.
Tags: Fiction
Trackback from your site.
Publisher
I'm just an average guy who loves promoting great Christian Books. This website is dedicated to all the Christ-followers out there who love to feast on the Word.