Beverly Lewis, "The Love Letters"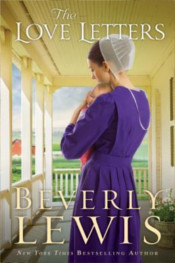 Marlena needed time to let things sink in. It was beyond her how all this could possibly work out–adding the care of an infant to her daily routine. Fortunately, it would just be until Luella returned home from the hospital and was stronger. No more than a couple weeks, surely.

Marlena Wenger's life takes an unexpected turn on the day she learns she must care for her estranged sister's baby. Spending the summer in Brownstown, Pennsylvania, to assist her Mennonite grandmother, and miles from Marlena's Old Order Amish beau, she feels out of her element in nearly every respect. Yet Marlena determines to do her best and stay focused on her future, even as those hopes become drastically altered.

Beverly Lewis is an outstanding writer with the ability to deliver. Her characters are believable and the storyline is deeply satisfying. Few writers are able to capture the reader early on and hold their attention throughout the story. Lewis has the ability to keep you coming back again and again.

Beverly Lewis does it again! She tackles a little of everything that makes a family tick. I could not turn the pages fast enough to see what was going to transpire next. Lewis writes with such feeling you feel like you are the character you are reading. ~Goodreads review

Beverly Lewis has written another wonderful book. She continues to capture my heart with these breath-taking stories that she writes. Have you ever questioned something that happened in your past? If you could go back and change it. Have you ever just thought that something was going to turn out the way that you had planned and then things go totally different? You will experience such things with the characters in this book. This wonderfully spun story has a way of making you stop and think. ~Goodreads review

Purchase through Amazon.
Tags: Fiction
Trackback from your site.
Publisher
I'm just an average guy who loves promoting great Christian Books. This website is dedicated to all the Christ-followers out there who love to feast on the Word.