Heather Burch, "Along the Broken Road"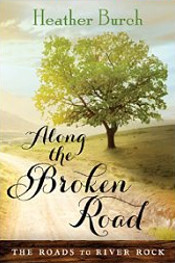 Heather Burch's novel is "simply brilliant." Armed with only a journal and a promise, soldier Ian Carlisle returns home to fulfill his friend's dying wish: to find the man's daughter and read her his journal, one page at a time. The woman he finds in River Rock, Missouri, is just as warmhearted, artistic, and feisty as her father described. Ian had fallen in love with Charlee McKinley before he even met her, but he has no idea if she'll ever return his feelings.

Charlee loved her father—but she didn't like him very much. Regimental and strict, Major Mack never approved of his daughter's choices. So when a down-on-his-luck soldier arrives on Charlee's doorstep, she'll give him the benefit of the doubt, but not her heart. It isn't until he starts reading to her that the beautiful, touching words begin to unlock something deep inside. But when Ian reveals a secret that shakes Charlee to her core, will she close herself off to love out of fear?

Heather Burch has always been drawn to epic stories about love and loss. She writes high adventure young adult novels. She lives and writes in Florida.

From the haunting opening scene to the satisfying conclusion, Heather Burch's newest novel, Along the Broken Road satisfies like a big comfortable quilt. This tale of loyalty and friendship envelopes the reader and, like the story within the story, reveals the patience of true love, one glorious page after another. ~Goodreads

This is the first time I have read a book by Heather Burch but it will not be the last time. I enjoyed this book very much. She reaches the depth of emotions of her characters and brings them to a self awareness that is fascinating to read I certainly recommend this book. ~Goodreads

Go to Amazon.
Tags: Fiction
Trackback from your site.
Publisher
I'm just an average guy who loves promoting great Christian Books. This website is dedicated to all the Christ-followers out there who love to feast on the Word.