Karen Witemeyer, "A Worthy Pursuit"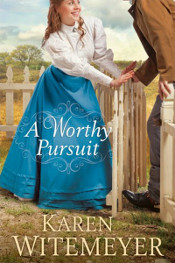 Top 50 Books loves Karen Witemeyer. We look forward to what the future holds for this superlative author. Here's the storyline of her latest work:

of A teacher on the run. A bounty hunter in pursuit. Can two enemies learn to trust each other before they both lose what they hold most dear?

Stone Hammond is the best tracker in Texas. He never comes home empty-handed. So when a wealthy railroad investor hires him to find his abducted granddaughter, Stone eagerly accepts.

Charlotte Atherton, former headmistress of Sullivan's Academy for Exceptional Youths, will do anything to keep her charges safe, especially the orphaned girl entrusted to her care. Charlotte promised Lily's mother she'd keep the girl away from her unscrupulous grandfather, and nothing will stop Charlotte from fulfilling that pledge. Not even the handsome bounty hunter with surprisingly honest eyes who comes looking for them.

When Miss Atherton produces documentation that shows her to be Lily's legal guardian, Stone must reevaluate everything he's been led to believe. Is she villain or victim?

Then a new danger forces Charlotte to trust the man sent to destroy her. Stone vows to protect what he once sought to tear apart. Besides, he's ready to start a new pursuit: winning Charlotte's heart.

Karen Witemeyer delivers a compelling and suspenseful story that is sure to keep you up late at night.

Purchase through Amazon.
Tags: Fiction
Trackback from your site.
Publisher
I'm just an average guy who loves promoting great Christian Books. This website is dedicated to all the Christ-followers out there who love to feast on the Word.