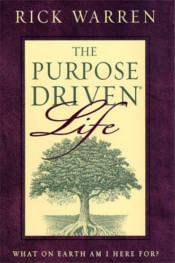 Translated into over 50 languages, The Purpose Driven Life is far more than just a book; it is a guide to a spiritual journey that has transformed millions of lives. Once you take this journey, you'll never be the same again. This new, expanded edition of The Purpose Driven Life, created for a new generation of reader, includes: Video introductions by Rick Warren to chapters 1-40, An audio Bible study at the end of each chapter, with over 30 additional hours of teaching by Rick Warren.

Two new bonus chapters on the most common barriers to living a purpose driven life. Access to an online community where you can discuss your journey to purpose, get feedback, and receive support. Living out the purpose you were created for moves you beyond mere survival and success to a life of significance-the life you were meant to live. On your journey you'll find the answers to 3 of life's most important questions: The Question of Existence: Why am I alive? The Question of Significance: Does my life matter? The Question of Purpose: What on earth am I here for? Transform your life. Start your journey today.

Rick Warren is often called America's most influential spiritual leader. He founded Saddleback Church in Orange County, California, which is now one of the largest and best-known churches in the world. He also founded the Purpose Driven Movement, a network of tens of thousands of churches from all denominations in 160 countries. He has trained over 350,000 pastors worldwide. Calling him a spiritual entrepreneur, Forbes magazine said, If Warren's ministry was a business, it would be compared with Dell, Google, or Starbucks in impact. Rick and Kay Warren give away 90 percent of the profits from their books to charitable causes, including their global P.E.A.C.E. plan and Acts of Mercy, which services those infected with and affected by AIDS.

Purchase through Amazon.