John Eldredge, "Wild at Heart"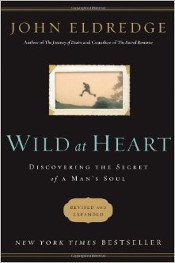 Every man was once a boy. And every little has dreams, big dreams, dreams of being the hero, of beating the bad guys, of doing daring feats and rescuing the damsel in distress. Every little girl has dreams, too: of being rescued by her prince and swept up into a great adventure, knowing that she is the beauty. But what happens to those dreams when we grow up? Walk into most churches, have a look around, and ask yourself: What is a Christian man? Without listening to what is said, look at what you find there. Most Christian men are . . . bored.

John Eldredge revises and updates his best-selling, renowned Christian classic, Wild at Heart, and in it invites men to recover their masculine heart, defined in the image of a passionate God. And he invites women to discover the secret of a man's soul and to delight in the strength and wildness men were created to offer. John Eldredge is the director of Ransomed Heart.

Deep in his heart, every man longs for a battle to fight, an adventure to live, and a beauty to rescue.

A man needs a much bigger orbit than a woman. He needs a mission, a life purpose, and he needs to know his name. Only then is he fit for a woman, for only then does he have something to invite her into.

I wasn't mean; I wasn't evil. I was nice. And let me tell you, a hesitant man is the last thing in the world a woman needs. She needs a lover and a warrior, not a Really Nice Guy.

Don't ask yourself what the world needs, ask yourself what makes you come alive, because what the world needs are men who have come alive.

Purchase through Amazon.
Tags: Men, Non-Ficton
Trackback from your site.
Publisher
I'm just an average guy who loves promoting great Christian Books. This website is dedicated to all the Christ-followers out there who love to feast on the Word.