Shelley Shepard Gray, "Hopeful: Return to Sugarcreek"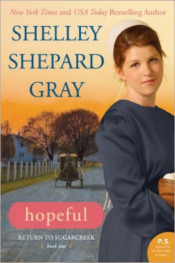 In the Amish town of Sugarcreek, love comes in many forms. But will it come at all for Miriam?

Miriam Zehr has worked at the Sugarcreek Inn longer than she cares to admit. The restaurant is a favorite of town residents as well as the many tourists who come to taste the famous Amish fare. Though she always tries to have a smile for every customer, deep down Miriam knows something's missing: a family of her own.

Miriam has never felt particularly beautiful, especially because she's always been a bit heavier than other girls her age. When Junior, the man she's pined for all her life, suddenly seeks her out, she's thrilled to be noticed . . . until she realizes he's only asking her to help get the attention of Mary Kathryn Hershberger, her pretty friend.

If Miriam helps Junior court Mary Kathryn, she'll get to spend a lot of time with him, but she might lose him in the process. Are these few stolen moments worth a lifetime of sacrifice? Is Miriam right to even hope for the life she dreams of?

Shelley Gray is the NY Times and USA Today bestselling author of several series: The Seasons of Sugarcreek, The Sisters of the Heart, and The Families of Honor.

Find Hopeful: Return to Sugarcreek by Shelley Gray at Amazon.
Tags: Fiction
Trackback from your site.
Publisher
I'm just an average guy who loves promoting great Christian Books. This website is dedicated to all the Christ-followers out there who love to feast on the Word.