Karen Kingsbury, "Angels Walking"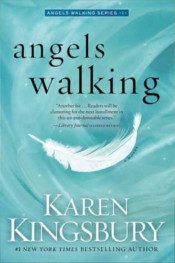 When former national baseball star Tyler Ames suffers a career-ending injury, all he can think about is putting his life back together the way it was before. He has lost everyone he loves on his way to the big leagues. Then just when things seem to be turning around, Tyler hits rock bottom. Across the country, Tyler's one true love Sami Dawson has moved on.

A series of small miracles leads Tyler to a maintenance job at a retirement home and a friendship with Virginia Hutcheson, an old woman with Alzheimer's who strangely might have the answers he so desperately seeks.

A team of Angels Walking take on the mission to restore hope for Tyler, Sami, and Virginia. Can such small and seemingly insignificant actions of the unseen bring healing and redemption? And can the words of a stranger rekindle lost love? Every journey begins with a step.

It is time for the mission to begin…

New York Times bestselling novelist Karen Kingsbury is America's favorite inspirational storyteller, with more than 25 million copies of her books in print. Not only do her books entertain, but they encourage and inspire.

Quotes:

Battles are won and lost through prayer.

I learned something a long time ago. I'd rather be single than be with the wrong guy.

Love first. Questions later. Grace beyond measure. All of it unconditional.

You'll live your life a lot happier if you stop trying to be perfect. Do your best for Jesus. When you fall short, He'll carry you. ~Angela Kingsbury

Purchase through Amazon.
Tags: Fiction
Trackback from your site.
Publisher
I'm just an average guy who loves promoting great Christian Books. This website is dedicated to all the Christ-followers out there who love to feast on the Word.