Melody Carlson, "Once Upon a Summertime"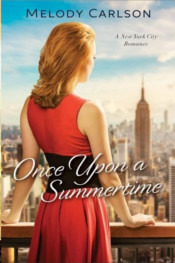 Managing the Value Lodge in her hometown was not what Anna Gordon had in mind when she set out in the hospitality industry. But it's a safe choice for a woman whose childhood was anything but stable. Out of the blue, she gets a once-in-a-lifetime chance to reinvent herself by moving to New York City, where she hopes for a management position at a stylish new boutique hotel. The big city is full of surprises–not the least of which is Sean O'Neil. Her childhood crush has applied for the very same position!

Sweet, romantic, and endlessly entertaining, this romp through the storied streets of New York City will enchant readers. Melody Carlson has created characters so charming that readers will long to meet them in the lobby of the stunning Rothsberg Hotel.

Melody Carlson is the award-winning author of over 200 books with sales of more than 6.5 million. She is the recipient of the prestigious Romantic Times Career Achievement Award.

Carlson does an amazing job as tour guide and I actually felt I had visited the Big Apple once I'd finished the book. Armchair traveling is so much fun. Once Upon a Summertime offers a fascinating glimpse into the behind-the-scenes action of the hospitality industry and the author infuses such wonderful descriptions that starkly contrast the Value Lodge and the NYC boutique hotel. Really pulled me into the ambiance of the story. ~Goodreads

I have never read a book by Melody Carlson I did not enjoy. This one will be added to the list. It was a refreshing change from historical novels. I never fail to learn something new from the books I read. ~Goodreads

Go to Amazon.
Tags: Fiction
Trackback from your site.
Publisher
I'm just an average guy who loves promoting great Christian Books. This website is dedicated to all the Christ-followers out there who love to feast on the Word.