Charles Swindoll, "The Grace Awakening"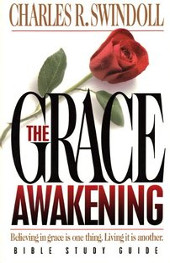 The Grace Awakening calls all Christians to wake up and reject living in such legalistic, performance-oriented bondage. The God of the universe has given us an amazing, revolutionary gift of grace and freedom. This freedom and grace set us apart from every other "religion" on the face of the earth. In this best-selling classic, Charles Swindoll urges you not to miss living a grace-filled life. Freedom and joy-not lists and demands and duties-await all who believe in the Lord Jesus Christ.

Dr. Charles R. Swindoll is senior pastor of Stonebriar Community Church, chancellor of Dallas Theological Seminary, and the Bible teacher on the internationally syndicated radio program Insight for Living. He has written more than thirty best-selling books, including STRENGTHENING YOUR GRIP, LAUGH AGAIN, THE GRACE AWAKENING, and the million-selling GREAT LIVES FROM GOD'S WORD series. Chuck and his wife, Cynthia, live in Frisco, Texas.

Purchase through Amazon.
Tags: Non-Ficton
Trackback from your site.
Publisher
I'm just an average guy who loves promoting great Christian Books. This website is dedicated to all the Christ-followers out there who love to feast on the Word.