Elisabeth Elliot, "Through Gates of Splendor"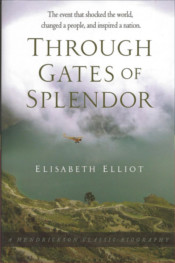 Through Gates of Splendor is a 1957 best selling book written by Elisabeth Elliot. The book tells the story of Operation Auca, an attempt by five American missionaries – Jim Elliot (the author's husband), Pete Fleming, Ed McCully, Nate Saint, and Roger Youderian – to reach the Huaorani tribe of eastern Ecuador. All five of the men were killed by the tribe. The book is Elliot's first book, and arguably her most well known work.

The title is derived from the fourth stanza of the hymn "We Rest on Thee". This hymn was famously sung by the missionaries before the men left for Waodaoni territory in September 1955. The lines read:

We rest on Thee, our Shield and our Defender.
Thine is the battle, Thine shall be the praise;
When passing through the gates of pearly splendor,
Victors, we rest with Thee, through endless days.
Power to the strong and death to the weak.

Elliot wrote this classic while still a missionary in Ecuador. She wrote at the request and cooperation from the families of the five men. She was given copies of letters and other writings which are extensively quoted throughout the book. The original edition was first published in 1957, one year before the first peaceful contact with the Huaorani was made. In subsequent publications, epilogues have been added to update what has happened to the Huaorani tribe since Operation Auca, as well as, what has happened to the missionaries' families.

I have one desire now – to live a life of reckless abandon for the Lord, putting all my energy and strength into it.

God is God. I dethrone Him in my heart if I demand that He act in ways that satisfy my idea of justice. It is the same spirit that taunted, "If Thou be the Son of God, come down from the Cross." There is unbelief, there is even rebellion, in the attitude that says, "God has no right to do this to five men unless…

Purchase through Amazon.
Tags: Biography, Non-Ficton
Trackback from your site.
Publisher
I'm just an average guy who loves promoting great Christian Books. This website is dedicated to all the Christ-followers out there who love to feast on the Word.