Francine Rivers, "Redeeming Love"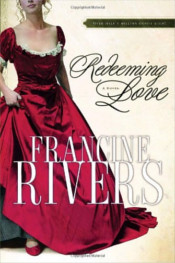 California's gold country, 1850. A time when men sold their souls for a bag of gold and women sold their bodies for a place to sleep.
Angel expects nothing from men but betrayal. Sold into prostitution as a child, she survives by keeping her hatred alive. And what she hates most are the men who use her, leaving her empty and dead inside.

Then she meets Michael Hosea, a man who seeks his Father's heart in everything. Michael obeys God's call to marry Angel and to love her unconditionally. Slowly, day by day, he defies Angel's every bitter expectation, until despite her resistance, her frozen heart begins to thaw.

But with her unexpected softening comes overwhelming feelings of unworthiness and fear. And so Angel runs. Back to the darkness, away from her husband's pursuing love, terrified of the truth she no longer can deny: Her final healing must come from the One who loves her even more than Michael does…the One who will never let her go.

A powerful retelling of the story of Gomer and Hosea, Redeeming Love by Francine Rivers is a life-changing story of God's unconditional, redemptive, all-consuming love.

"New York Times" best-selling author Francine Rivers began her literary career at the University of Nevada, Reno, where she graduated with a bachelor of arts degree in English and journalism. From 1976 to 1985, she had a successful writing career in the general market, and her books were highly acclaimed by readers and reviewers. Although raised in a religious home, Francine did not truly encounter Christ until later in life, when she was already a wife, a mother of three, and an established romance novelist. Shortly after becoming a born-again Christian in 1986, Francine wrote Redeeming Love as her statement of faith.

Purchase through Amazon.
Tags: Inspirational, Non-Ficton
Trackback from your site.
Publisher
I'm just an average guy who loves promoting great Christian Books. This website is dedicated to all the Christ-followers out there who love to feast on the Word.