Kyle Idleman, "Not A Fan"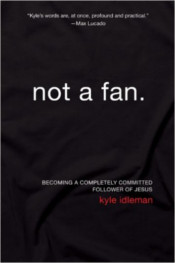 Pastor Kyle Idleman doesn't just want to be a fan of Jesus, he wants to full heartedly commit to him and be a follower of Jesus. But how can you make the leap from fan to follower? In Not a Fan Idleman uses biblical examples to show how the people who met Jesus also had to decide if they were fans or followers, and what it meant for them to then become followers.

Being a follower doesn't mean that you go to church every week, that you slap a Jesus fish on the back of your car, and that you give to charity. That's what a fan does. What a follower of Jesus does, Idleman observes, is die to themselves each and every moment of the day because "you can't say yes to following Jesus unless you say no to living for yourself."

In this three part book Idleman helps you to discover whether you are a fan or a follower, how to recognize the invitation Jesus has given, and what following Jesus looks like in your daily life. With humor and real life examples to draw you closer to Jesus, Kyle Idleman compels each and every one of us to Not Be A Fan.

Purchase through Amazon.
Tags: Non-Ficton
Trackback from your site.
Publisher
I'm just an average guy who loves promoting great Christian Books. This website is dedicated to all the Christ-followers out there who love to feast on the Word.