Lysa TerKeurst, "Made to Crave"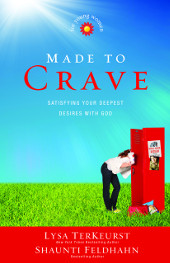 Made to Crave: Satisfying Your Deepest Desire with God, Not Food is the missing link between a woman's desire to be healthy and the spiritual empowerment necessary to make that happen. The reality is we were made to crave. Craving isn't a bad thing. But we must realize God created us to crave more of him. Many of us have misplaced that craving by overindulging in physical pleasures instead of lasting spiritual satisfaction.

If you are struggling with unhealthy eating habits, you can break the "I'll start again Monday" cycle, and start feeling good about yourself today. Learn to stop beating yourself up over the numbers on the scale. Discover that your weight loss struggle isn't a curse but rather a blessing in the making, and replace justifications that lead to diet failure with empowering go-to scripts that lead to victory. You can reach your healthy weight goal – and grow closer to God in the process. This is not a how-to book. This is not the latest and greatest dieting plan. This book is the necessary companion for you to use alongside whatever healthy lifestyle plan you choose. This is a book and Bible study to help you find the "want to" in making healthy lifestyle choices.

Purchase through Amazon.
Tags: Non-Ficton, Self-Help
Trackback from your site.
Publisher
I'm just an average guy who loves promoting great Christian Books. This website is dedicated to all the Christ-followers out there who love to feast on the Word.