Sarah Young, "Jesus Calling"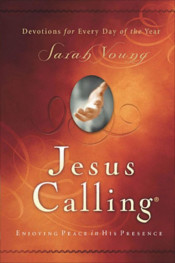 The Jesus Calling Devotional Bible puts readers in touch with God and His answers for their life situations. Missionary Sarah Young had been journaling her prayers for years when she began "listening" for what Jesus was saying to her within the words of Scripture. In this Bible, 260 scenarios pose life struggles to which Sarah Young gives answers from her Savior—words that Jesus has lovingly laid on her heart—words that have comforted and inspired Sarah and many others around the world.

Features include:
•260 prayers with devotions by Sarah Young
•Hundreds of inspiring scriptures highlighted throughout the text
•New King James Version® (NKJV) in paragraph format
•Index to devotions
•Two-color text
•Presentation page
•Ribbon marker

Sarah Young's devotional writing is helping millions in their quest for intimacy with Christ. She has been featured in the New York Times, the Wall Street Journal, USA Today, and Christianity Today and has sold more than 14 million books world wide. Jesus Today received the ECPA Christian Book of the Year award for 2013. Her writing is inspirational, thought provoking, and challenging. Sarah and her husband currently live in the United States.

Sit still in the Light of My Presence, and receive My Peace. These quiet moments with Me transcend time, accomplishing far more than you can imagine. Bring Me the sacrifice of your time, and watch to see how abundantly I bless you and your loved ones. Through the intimacy of our relationship, you are being transformed from the inside out. As you keep your focus on Me, I form you into the one I desire you to be.

Purchase through Amazon.
Tags: Biography, Non-Ficton
Trackback from your site.
Publisher
I'm just an average guy who loves promoting great Christian Books. This website is dedicated to all the Christ-followers out there who love to feast on the Word.