Warren Wiersbe, "50 People Every Christian Should Know"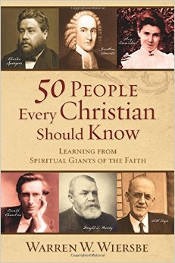 This book combines Wiersbe's Living with the Giants and Victorious Christians You Should Know, plus a new preface, and two new biographies. You will find strength in these stories.

We all need inspiration to lead lives that honor God. When our faith is weak or the pressures of the world seem overwhelming, remembering the great men and women of the past can inspire us to renewed strength and purpose. Our spiritual struggles are not new, and the stories of those who have gone before can help lead the way to our own victories.

50 People Every Christian Should Know gives a glimpse into the lives of such people as:

•Charles H. Spurgeon: The Prince of Preachers
•G. Campbell Morgan: The Prince of Expositors
•A. W. Tozer: The Theologian
•Fanny Crosby: The Songwriter
•Amy Carmichael: The Light of India
•Jonathan Edwards: The Founder
•James Hudson Taylor: The Missionary

Combining the stories of fifty of these faithful men and women, beloved author Warren W. Wiersbe offers you insight and encouragement for life's uncertain journey.

Purchase through Amazon.
Tags: Biography, Non-Ficton
Trackback from your site.
Publisher
I'm just an average guy who loves promoting great Christian Books. This website is dedicated to all the Christ-followers out there who love to feast on the Word.